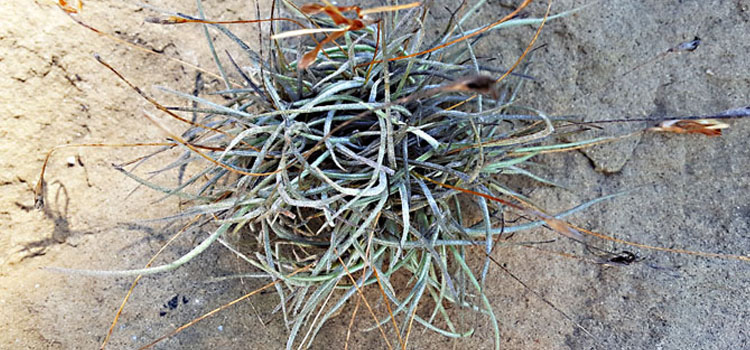 Ball Moss is a small epiphyte commonly found on limbs of live oaks and other trees in central Texas. Ball moss is not a moss as the name would suggest, but a plant in its own right with flower and seeds, in the bromeliad family.
Epiphytes are non parasitic plants that place false roots to aerial structures such as tree trunks, tree limbs, and even non organic places such as power lines or a fence. The false roots do not actually perform like true roots which uptake water and minerals.  If non parasitic, homeowners often ask why it is commonly found on dead or declining branches. This is because ball moss favours an environment with low sunlight and adequate humidity which happens to be in the interior of a tree canopy. While the interior of a canopy is favourable to epiphytes, it is also an area where conditions are not ideal for photosynthesis and healthy  tree growth, thus the presence of dead and dying branches. Live oaks in particular, with their thick layering canopies, provide an ideal environment where ball moss can thrive.
If the presence of this epiphyte is light to moderate, it is a question of aesthetics, which can easily be addressed with periodic removal of dead wood. Pruning dead wood will typically reduce ball moss infestation by 70% to 80%. If the presence of ball moss is heavy or extends to outer parts of the canopy it can reduce airflow and block sunlight, thus inhibiting new growth. Therefore a more thorough reduction of ball moss may be required to ensure the health of the host tree. This can only be achieved by your certified arborist climbing the outer portions of the canopy and hand picking the ball moss. While spraying baking soda or Kocide 101 has proved effective in killing  ball moss, it doesn't physically remove it from the tree. This can be both unsightly and often become a host and nesting ground for unwanted insects.
Ball moss will never be permanently eradicated but proper pruning and regular mainetnance on your trees will ensure it's population is kept under control. If you have any additional questions or need an on site visit from one of our ISA certified arborists please don't hesitate to get in touch.