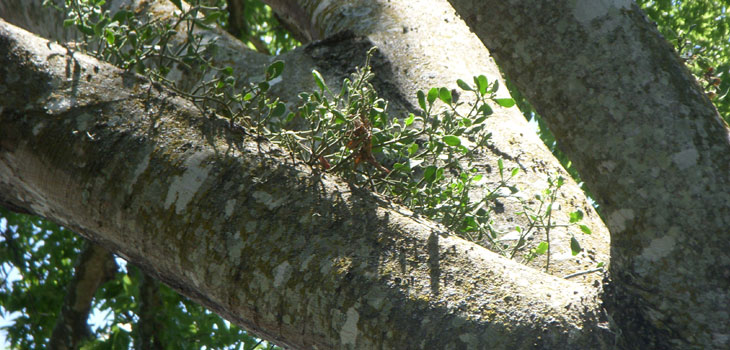 Mistletoe is a hemi-parasitic plant in the order Santalales that lives within the branches of a tree. Many different species of tree host mistletoe, here in central Texas it is most commonly found in cedar elms, hackberries, mesquite and red oaks.  It often goes unnoticed by homeowners as the mistletoe leaves can be confused with those of the host tree but, as all our local host trees are deciduous and the mistletoe is evergreen, it is very easy to spot in the winter months.
Mistletoe seeds are mostly spread by bird excrement. Once the seed is deposited on the branch the mistletoe will start using the host tree for water and minerals severely depleting the hosts  resources. Damage is also done to the branch structure of the host tree, accelerating decay and weakening the wood, which eventually can lead to branch failure.
There is no known solution to eradicating mistletoe from trees once the infection begins but the damage can be drastically reduced by having it  periodically removed by your ISA certified arborist as maintenance pruning is being performed in the host tree. The mistletoe will resume sprouting usually within a year but its development has been greatly reduced much to the benefit of the infected tree.